By Christina Mendoza, AICP
Home to world-renowned beaches, incredible marine life, and beautiful amenities, with more than 15 million visitors each year, Pinellas County is truly known as a waterfront paradise.
However, driving to and from our coastal communities can be time-consuming and frustrating both for Pinellas County residents and tourists, and there are very few other transportation options. That's why when the idea of restarting and expanding water taxi service throughout Pinellas County arose, Forward Pinellas decided to get on board.
Enhancing Beach Access
In 2015, Forward Pinellas established a set of "Strategic Planning & Operations Topics" or SPOTlight emphasis areas that will be a focus of Forward Pinellas' work efforts over the upcoming years. One of those emphasis areas is Enhancing Beach Access. Enhancing Beach Access focuses on innovative ways to enhance accessibility and mobility to and around the beach communities. Our goal is to work with our partners to eliminate traffic-related fatalities and significantly reduce the number and severity of crashes, while increasing mobility options.
To expand transportation options within Pinellas County and regionally, Forward Pinellas created a Waterborne Transportation Committee to take a closer look at waterborne transportation (i.e. ferry/water taxi) service within the county, and determine what Forward Pinellas and our partners can do to support and expand waterborne transportation options. The idea for waterborne transportation service is not new to Pinellas County. The Pinellas County MPO previously studied waterborne transportation in 2003-04, including developing a system plan and phased implementation strategy. At the time, the Pinellas County MPO Board decided that the private sector should be the driver of waterborne service, not the public sector. Now, the Waterborne Transportation Committee is reconsidering the role of Forward Pinellas and local partners.
Identifying our current options
Currently, waterborne service in Pinellas County is provided by the Clearwater Ferry, Hubbard's Ferry (formerly the Tampa Bay Ferry & Water Taxi) and the Cross Bay Ferry. These services have served Pinellas County and the Tampa Bay Region as a critical means of both worker and visitor mobility, especially during peak tourist season. However, Hubbard's Marina has tried for many years to establish regular service to connect different waterfront communities, but has not gained sufficient local funding traction to make it worthwhile, and currently only operates excursion service to Egmont Key and other charter services. In addition, as with many businesses affected by the pandemic, the Clearwater Ferry, which provides service from Clearwater to Clearwater Beach and Dunedin, was reduced to reservation-only service due to financial limitations and is still operating as such.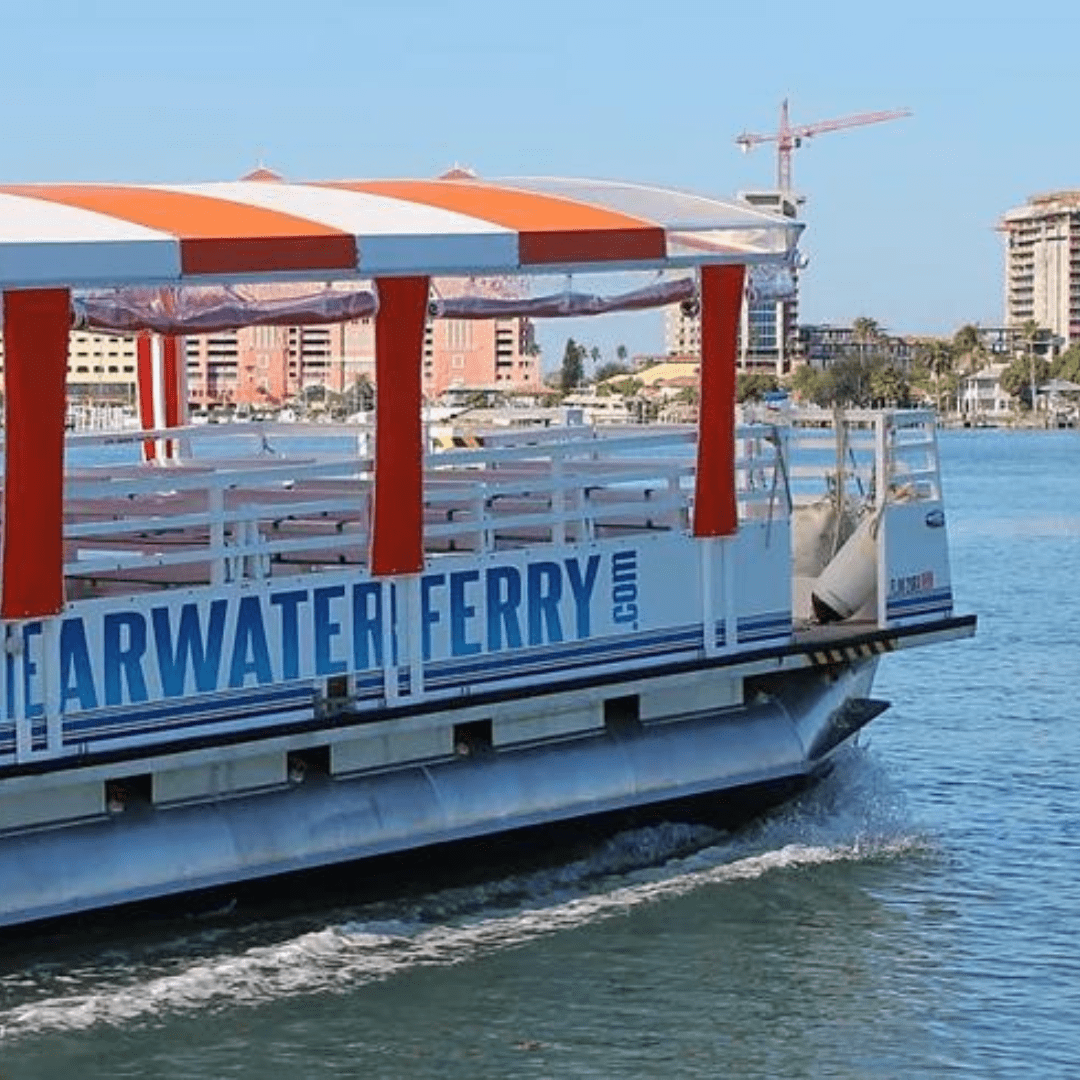 The Committee and Forward Pinellas Board adopted a set of recommendations to establish a sustainable phasing strategy for waterborne service, establish PSTA as the administrative and contracting entity for waterborne service, and recommend that Forward Pinellas staff continue monitoring and reporting efforts. The Committee and Forward Pinellas Board adopted a Countywide Waterborne Policy Framework that features a set of evaluation criteria that will be used to prioritize and phase service.
Using the waterborne systemwide plan as a basis, the Countywide Waterborne Policy Framework will be used to prioritize and phase routes included in it. Once a route is prioritized and implemented, the policy also includes information on the administrative roles and responsibilities for route performance, monitoring, and evaluation, to ensure there is a valuable return on investment.
In addition, Forward Pinellas and PSTA came up with a plan to restart service to Clearwater and Dunedin to return it to pre-pandemic levels and address the need for additional transportation options in the area. The phased implementation plan is at least partially dependent on that restart service plan meeting certain expectations in terms of effective service performance, cost efficiency, and linkage with complementary transportation options.
"Establishing a countywide waterborne transportation plan is a multi-step process, and we're determined to work toward a path forward so we can provide a better quality of life for our communities," says Forward Pinellas Executive Director Whit Blanton. "What is needed now is a commitment to prioritize multimodal transportation options like waterborne service at the local government level, and find funding opportunities to turn these plans into reality."
A Path Forward
Forward Pinellas and PSTA have worked with the local governments to determine a potential funding contribution, however, more discussion is needed to find a solution. Moving forward, the Waterborne Transportation Committee will meet to discuss potential funding opportunities for the service, and if it is implemented, continue to evaluate the service performance to determine any necessary future service expansion. This will enable the county to move away from a car-dependent environment and focus on providing multimodal transportation solutions for all our residents. It is a culture shift, but with the right interest, investment, and priorities, we can create an incredible, transit-focused destination where everyone can live, work, play, and enjoy.