Calling all bike lovers! Join Forward Pinellas and the City of Gulfport for a guided "Bike Your City" group ride around the City of Gulfport on
March 18th from 8:30 a.m.- 11 a.m.
This free, family-friendly bike ride will showcase the many beautiful sights and wonderful amenities around the Historic Gulfport Casino and throughout the beachfront and downtown areas. On this guided and slow, nine-mile tour, riders will learn about roadway safety and trail etiquette while exploring local amenities which you'll find beautiful, exciting and surprising.
Space is limited. Registration required. The first 100 people registered will receive a free BYC 22 t-shirt. All registered participants will receive bike lights, water, and refreshments.
The opening ceremony will be at 8:30 AM located at the Historic Gulfport Casino Ballroom. The ride will begin promptly at 9:00AM and will include an easy and slow guided 9-mile tour of beautiful Gulfport.
The group ride will include the Gulfport Spur of the Pinellas Trail which provides direct access from the existing trail network to the City's beachfront and downtown areas, as well as the Gulfport Casino, a historical landmark recently named to the National Registry of Historic Places. The tour will also include other amenities local to Gulfport which riders will find beautiful, exciting, and surprising!
"From the Historic Gulfport Casino to the Gulfport Spur and even the OsGood Point Trail Connector, Bike Your City 2022 will explore the beautiful biking areas that make the City of Gulfport unique and enchanting," says Mayor of Gulfport Samuel Henderson. "This group ride will not only draw much needed attention to the safety of everyone on our roadways, but will also celebrate the many benefits of cycling during Florida Bike Month."
Riding facilities vary from wide roads with street parking, uneven brick roads, narrow neighborhood streets and shared-use paths. Road/Path conditions (meaning rough to smooth) also vary and skinny tires are not recommended (hybrid or fat tires OK). Caution is encouraged on the Clam Bayou Trail which has sharp turns and signalized RRFB's crossings. Helmets are required for riders under 16.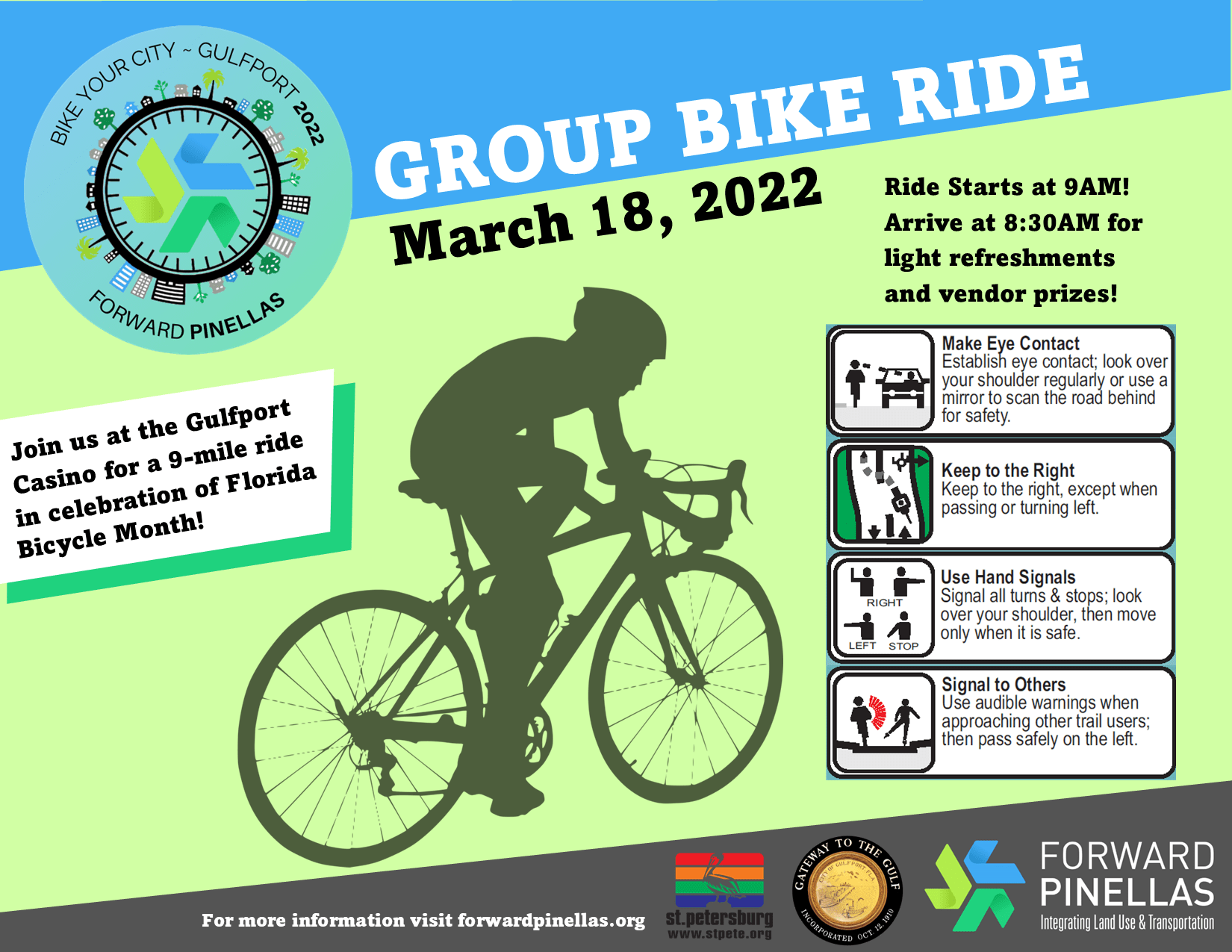 Destinations on our BYC22 Route
Gulfport Historic Waterfront
The Shore Boulevard Recreation Trail and Improvements Project was part of a multi-year Citywide effort to redevelop its Waterfront Redevelopment District, increase mobility and access within our downtown and commercial center and expand recreational trail access and connectivity within the City of Gulfport and Pinellas County communities.