Advantage Pinellas: The 2050 Long Range Transportation Plan
~~ Public outreach is underway for the next Long Range Transportation Plan for Pinellas County ~~
CLEARWATER, FL —- Forward Pinellas has begun development of the next long range transportation plan (LRTP) for Pinellas County – Advantage Pinellas. Advantage Pinellas is the vision for the county's transportation future. There are many advantages to being in Pinellas County and Advantage Pinellas will be designed to support and sustain the unique qualities of our county.
Advantage Pinellas is a strategic plan to improve mobility and economic opportunity countywide by setting transportation funding priorities. As a metropolitan planning organization, Forward Pinellas determines what transportation projects should receive state and federal funding in Pinellas County with the LRTP. Our neighborhoods, business districts and tourist destinations should all be supported by a safe and reliable transportation network.
Help Us Design Advantage Pinellas: The 2050 Long Range Transportation Plan
To develop the long-range transportation plan, we look at future projected growth and travel trends in the region and conduct outreach with the public to identify what transportation projects should be funded to meet our county's needs. Examples of transportation funding priorities have included development of the SunRunner, construction of the new Gateway Expressway, improvements to Gandy Blvd., the completion of the Pinellas Trail loop, improving travel along US 19, and more!
We encourage public input on the next long range transportation plan. See below for ways you can get involved and make your voice heard.
Just Launched – Join the Advantage Pinellas Participation Challenge!
The Advantage Pinellas Participation Challenge is an interactive website where you can share your needs and wants for future transportation projects. By registering and providing your input you will be entered into a drawing to win prizes, such as a $100 gift card! The more you contribute and interact with others' posts the more chances you earn to win prizes.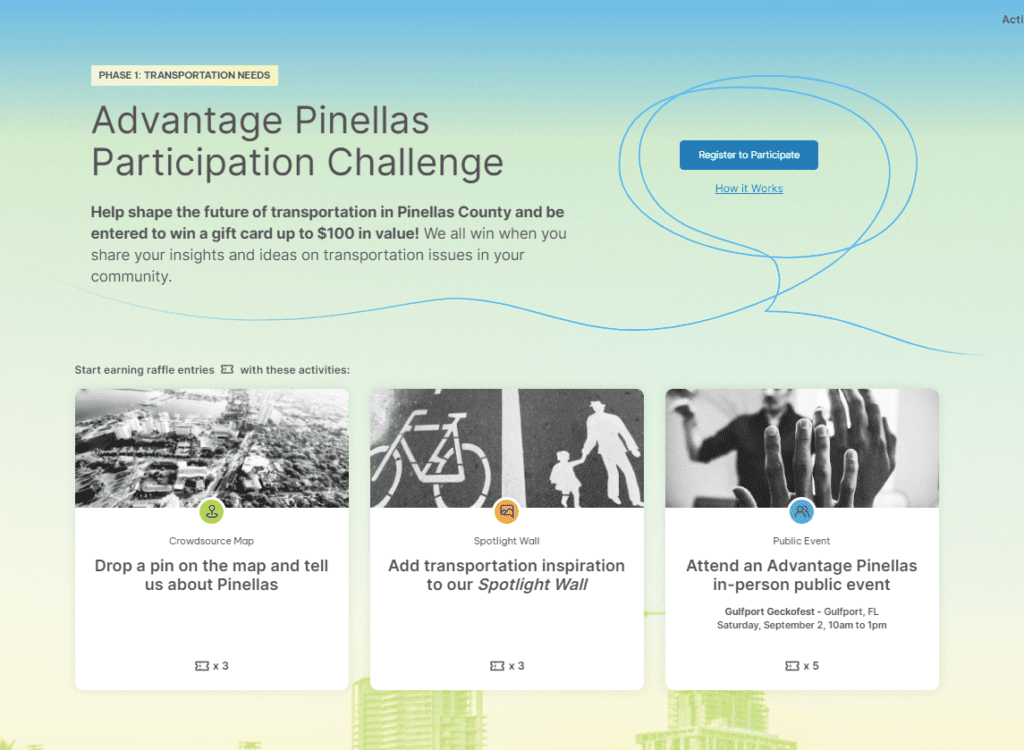 There are multiple ways to play –
Use the Pinellas Map to post photos and comments about transportation needs or desires for specific areas of the county.
Visit the Spotlight Wall to add some transportation inspiration and show what change you would like to see in Pinellas County. Post a comment, photo, and like or comment on others' posts.
Check the Public Events section for where you can find Forward Pinellas staff in our community.
We all win when you share your ideas on transportation issues in your community!
Learn more about the LRTP at: https://forwardpinellas.org/guiding-plans/long-range-transportation-plan/
If you are interested in getting involved with Forward Pinellas' work, contact us today: forwardpinellas.org/get-involved.
For more information about Forward Pinellas, visit www.forwardpinellas.org.
###