In Development – The 2050 Long Range Transportation Plan
Planning has begun for the 2050 Long Range Transportation Plan! Last developed and adopted in 2019, the LRTP is revisited every five years in order to account for changing socioeconomic data, travel patterns and local priorities. Forward Pinellas has begun the process to develop a new Advantage Pinellas Plan, utilizing the most recent demographic data from the decennial Census, the most recent project cost estimates coming from the current inflationary climate and considering the post-pandemic shifts in travel and employment trends.
About the LRTP
Advantage Pinellas is a strategic plan to improve mobility and economic opportunity countywide. As a metropolitan planning organization, Forward Pinellas determines what transportation projects should receive state and federal funding in Pinellas County with its long range plan.
The plan identifies the major transportation needs for our communities and enables them to receive critical funding in the future – without inclusion in the plan, a transportation project cannot be eligible for this funding resource and may not be built. Forward Pinellas creates a new Long Range Transportation Plan every five years. The newest Long Range Transportation Plan is the Advantage Pinellas plan.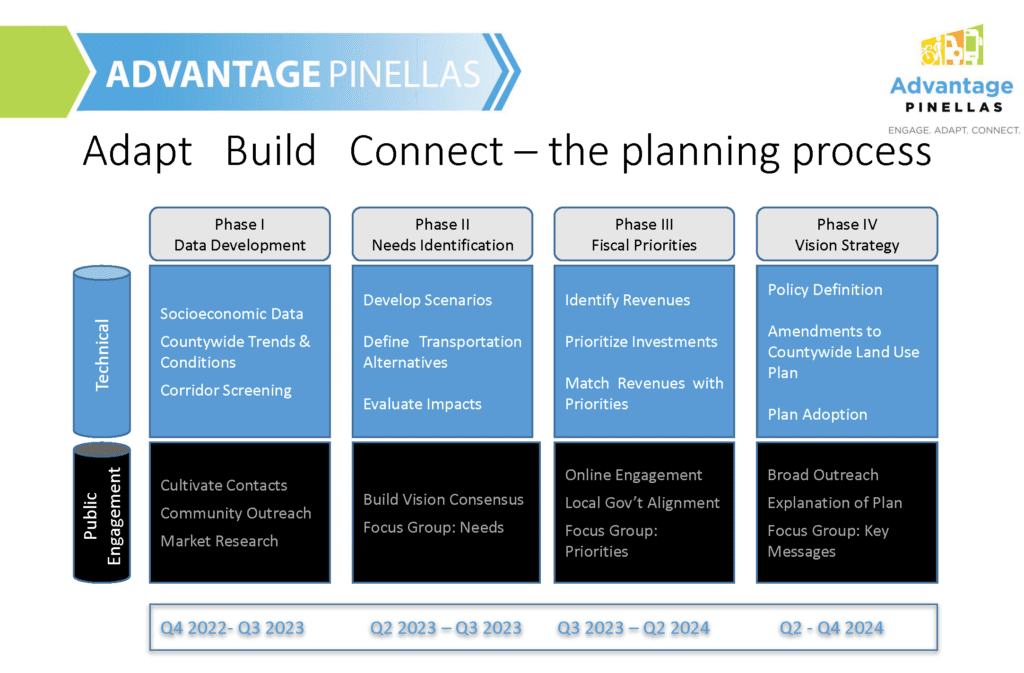 Advantage Pinellas Participation Challenge
The Advantage Pinellas Participation Challenge is an interactive website where you can share your needs and wants for future transportation projects. By registering and providing your input you will be entered into a drawing to win prizes! There are multiple ways to play – Participants are encouraged to post photos and comments to the Pinellas map and Spotlight Wall and check the website for where Forward Pinellas staff will be at public outreach events in our community.
Statistically Valid Survey
A statistically valid community transportation survey was conducted in Spring 2023 to inform the 2050 Long Range Transportation Plan (LRTP) process, or Advantage Pinellas 2050. This survey solicited and summarizes public preferences and priorities related to transportation improvements in Pinellas County.
As a companion effort to the 2023 statistically valid survey, focus groups are being conducted with Pinellas County residents for additional feedback on the community's preferences and priorities related to transportation improvements in Pinellas County. This effort will provide detailed and specific information on transportation experiences of residents. Three focus groups are to be completed by Spring 2024.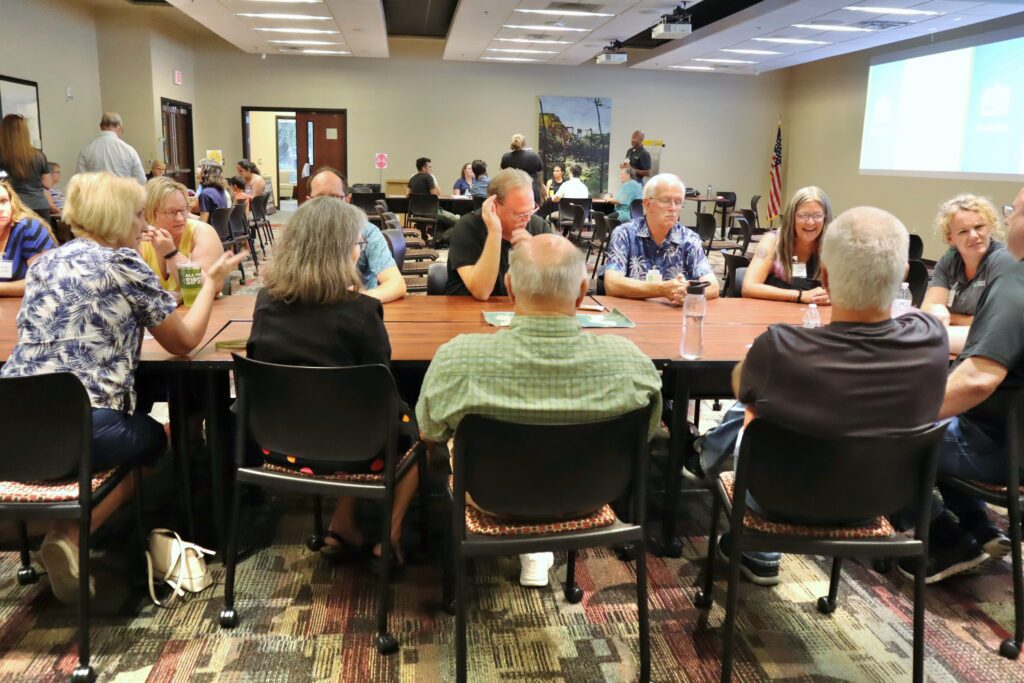 The Current Plan – The 2045 Long Range Transportation Plan
2045 Advantage Pinellas – Public outreach
In addition to regional outreach activities, Forward Pinellas has been busy engaging our local residents and stakeholders in a variety of ways. In 2018, we completed a statistically valid survey of the public, which gave us a few key takeaways about what residents want from our transportation and transit systems.
For the 2045 plan, agency staff members attended a wide array of events to gain feedback on what types of projects people want to see funded in the Advantage Pinellas Plan.
If you would like to request a speaker for an upcoming event or association meeting, please contact Planning Manager Chelsea Favero.
2045 Advantage Pinellas – Survey Results
Because Pinellas County residents are the ones who will be using the transportation options we plan for, we asked you to help us decide which projects are priorities over the next 25 years.
The Advantage Pinellas MetroQuest survey was open for the month of July; we presented a summary of the results to our board in September.
Regional Considerations
Along with the MPOs of Hillsborough and Pasco counties, Forward Pinellas has been working to evaluate how the region could grow depending on a variety of transportation investment choices. Tampa Bay is already in the top 20 most populated regions in the country, with estimates that a million more people will move here in the next 20 years. Because growth and transportation do not stop at county borders, the three MPOs have been closely coordinating transportation planning activities.
An online survey, It's Time Tampa Bay, launched in the summer of 2018 to gauge opinions on transportation and development throughout the region. The results of the survey will be critical in informing the ultimate selection of projects to advance for funding by 2045.
Advantage Pinellas also includes the Pinellas Suncoast Transit Authority (PSTA) Community Bus Plan, pairing transportation and transit planning to ensure we have a clear, comprehensive, and integrated vision for the ways people can travel. Visit the PSTA site to learn more.