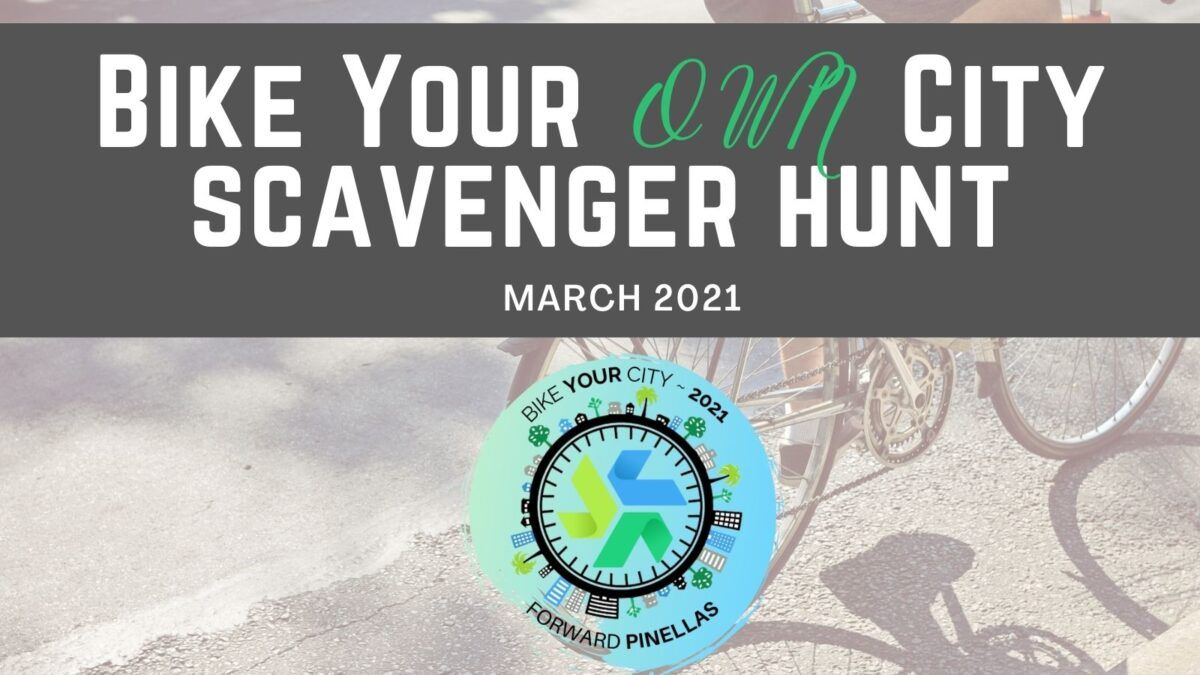 PINELLAS COUNTY —-  Help us celebrate Florida Bicycle Month this March by joining us for a free biking scavenger hunt! Forward Pinellas is pleased to announce our 2nd self-guided "Bike Your Own City" scavenger hunt for residents throughout Pinellas County.  Throughout the month of March, participants will be challenged to find 20 items while biking throughout their own community and submit a "selfie" or picture of their bike using our interactive online form.
"Bicycling plays such an important role in the lives of so many Pinellas County residents and visitors. The virtual Bike Your Own City scavenger hunt is a great way for everyone to celebrate Florida Bike Month and learn how important it is to keep each other safe on our roads and trails," says Forward Pinellas Chair and St. Petersburg Councilmember Darden Rice. "I am especially excited about the partnership with our local bike shops and the excellent community art project to increase safety awareness and bike advocacy."
WHAT:       Bike Your Own City Self-Guided Scavenger Hunt
WHEN:      March 1 – 31, 2021
REGISTER HERE:     bit.ly/byc21
Once you register, you'll receive the scavenger hunt locations and instructions for how to show us your "selfie." You'll also have the opportunity to support local businesses, get involved with our social media campaign, and even win a T-shirt, bike lights, gift cards and more! Keep an eye out for our Tuesday Trivia on social media and you could win a gift certificate to a local bike shop!
The Safety Harbor Art and Music Center (SHAMC) will be creating free, custom "Bike Your City" yard signs that you can pick up at several local bike shops. Register today for more information on how to get your sign and show your support for bike advocacy.
To stay up to date on all events and webinars, sign up for our email list here: bit.ly/BYCityEmail
For more information about Bike Your Own City Scavenger Hunt and to stay up to date, click here: https://forwardpinellas.org/bikeyourcity