Perhaps you've seen them?  The fat-tired, bulky framed or squat bicycles with the bulging disk of a heavy, black battery sitting on the rear rack or inside an extra thick down tube. "Everybody's getting those e-bikes," I recently overheard from a man walking past a full bike rack on Safety Harbor's Main Street.
Well, not everybody is getting an e-bike, but it is increasingly easy to spot them in almost every community, on the Pinellas Trail, and for rent in and around downtown St. Petersburg. E-bikes now constitute about 10 percent of all U.S. bike sales, with a 90 percent sales increase in 2019 over the prior year. The pandemic has certainly contributed to their surge in popularity. I joined their ranks in December with a new e-bike –  and y'all – it's like cruising on a cushion.
As a regular runner and bike commuter, I didn't think an electric bicycle was for me. Then I noticed my aching knees while pedaling uphill and became intrigued with the idea of getting around more quickly and easily. I went to my local bike shop and, after some test-riding, decided to purchase a Specialized Como 3.0, a pedal assist e-bike with three levels of power. I added a rack for my grocery bag and panniers.
A Few Observations
The electric bike is a real game-changer. Pedal-assist e-bikes provide mobility and exercise for people who might not otherwise ride a bike. They help when I'm climbing hills, bridges, and trail overpasses, and it cuts my 40-minute, one-way commute by regular bike down to a car-competitive 25 minutes, with a lot less sweating.
My e-bike helps me do several things:
Being local. I believe in the power of 20-minute neighborhoods, where housing, jobs, parks, services, and retail destinations are all within a 20 minute trip regardless of mode. I want to live up to that planning ideal, and in my suburban east Clearwater neighborhood a mile south of downtown Safety Harbor, an e-bike makes it doable. I can drop by the grocery, pharmacy, or brewery all year around, significantly extending my range to five or more miles and making the shorter trips as quick as driving my car.
Commuting. I enjoy biking to work when I need to be in the office, but Florida is hot and humid 10 months out of the year. My 7.5 mile one-way trip to downtown Clearwater leaves me…glowing. The e-bike cuts both my carbon footprint and my commute time, all while pedaling at an easy pace. I'll still bring a change of clothes much of the year, but I'll be fresh and ready to get working.
Riding with Traffic. When I'm on a bicycle, I think of myself as traffic. I operate like I belong on the road with cars, preferably those with a lower-speed street or with a wide or buffered bike lane. I avoid riding on sidewalks unless there's no safe option. That's where people are incredibly vulnerable, especially when biking against the direction of traffic. As this recent news story of a fatal crash involving an e-bike in Madeira Beach shows, sidewalk riders are largely invisible to cars and trucks exiting or turning into driveways. A faster-moving e-bike on the sidewalk magnifies the risk. But on the roadway, my e-bike helps me to comfortably operate with the flow on lower speed (30-45 mph) roads, helping me to be seen and better respected.
Some things are noticeably different with an e-bike.
The speed you can reach means you have to be more careful. It's best to stop pedaling heading into turns to avoid riding into the grass or a ditch. Oncoming cars also can easily mis-judge your speed, risking a left hook crash by turning in front too closely.  Remember: the speed limit on Pinellas County trails is 20 mph. Our trails are full of people on bike or on foot, in groups, with dogs, strollers and wheelchairs. An audible signal and a drop in speed are necessary, respectful and legal ways to alert people on your approach. Bicyclists must yield to pedestrians, but I frequently hear complaints that cyclists on the trail nearly run over runners and walkers.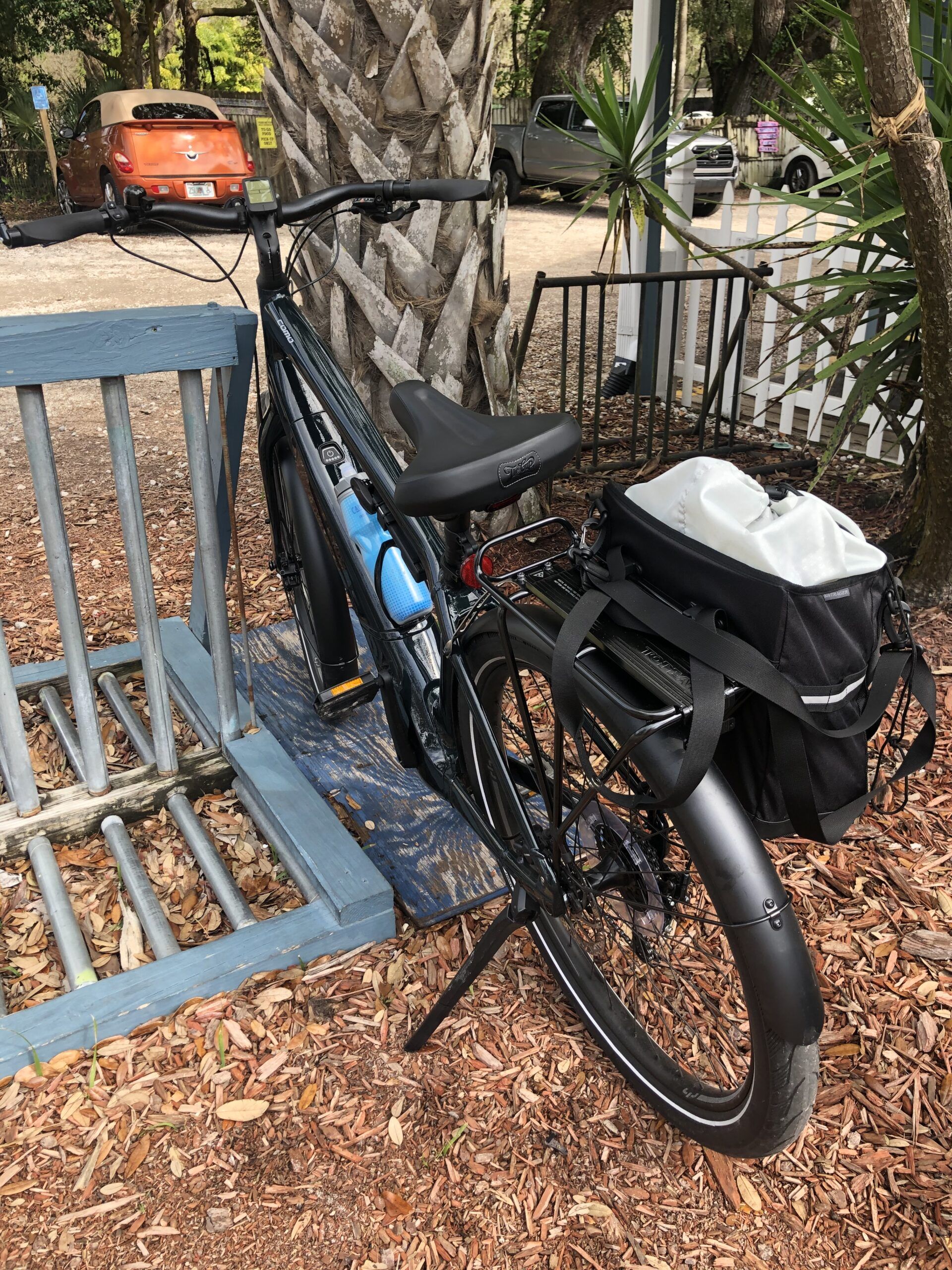 Equity is an important consideration. The price of e-bikes starts at around $1,000 and good e-bikes can easily reach $3,000 to $5,000. The battery, the biggest part of the price, will need to be replaced in several years. While for some people they can substitute for a car with less maintenance, they remain out of reach for many households.  To that end, some in Congress are proposing a bill – dubbed the E-Bike Act – that would offer Americans a refundable tax credit worth 30 percent of a new e-bike's purchase price, capped at $1,500. Any e-bike or e-cargo bike costing less than $8,000 would be eligible. That's a great start.
The legalities of e-bikes can use more clarity. Florida passed a law in 2020 enabling the use of e-bikes anywhere regular bicycles may go, but left discretion on regulation and enforcement to local governments. St. Petersburg has taken clear steps to define and regulate operating parameters for its rental e-bikes and e-scooters. However, Pinellas County's trail rules remain ambiguous despite recommendations for policy changes that quietly went into effect in 2016. Signs on the trail still say, "motor vehicles prohibited."
Not everyone loves e-bikes. Social media feeds in Pinellas County routinely display angry posts about e-bikes on the Pinellas Trail. Some road cyclists, bike commuters and even casual bike riders dismiss e-bike users as "cheaters" for riding "motorcycles." But that's missing the point. E-bikes make bicycle riding easy, desirable, fun, and more purposeful for commuting or errands. They greatly expand the comfortable range of bicycling for many people of all experiences and skill levels. A cargo e-bike can substitute for a car. People with heart disease, COPD and other ailments can ride a bike and get the fresh air and exercise they need to enjoy life. E-bike users comprise a diverse demographic as studies have shown that older adults, women, and people who do not consider themselves physically fit are more comfortable riding an e-bike compared to a traditional bicycle.
The potential is there for e-bikes to transform our communities, cities and regions, helping overcome barriers to bike riding and reducing dependence on cars. We still need to work on safe places to ride, visible and secure places to park your bike, and improvements in technology for traffic signals and cars to detect people on bikes and respond to their presence. And we need to address affordability, so everyone has access. As the market responds to rising demand, I'm confident that our intentional actions as public agencies will enable this transformation to happen in ways to boost overall economic growth, support local businesses, and sustain great communities.