What is Level of Service?
Level of Service (LOS) is a metric that's commonly applied in transportation planning to measure the quality of travel on a roadway. A letter grade of "A" through "F" is used to describe the conditions drivers experience when traveling from place to place. Variables such as traffic speed, the number of cars, the number of traffic signals, the number of lanes, etc. are used in complicated equations to calculate the grade that a roadway is assigned.
The Highway Capacity Manual (HCM) describes the letter grade rating system for LOS as follows:
| | |
| --- | --- |
| Level of Service Grade | General Operating Conditions |
| A | Free flow of traffic |
| B | Free flow of traffic is maintained but motorists are slightly restricted |
| C | Stable flow of traffic but most drivers are restricted in freedom of movement |
| D | Traffic density increases and speeds begin to decline |
| E | Traffic is near capacity and drivers may experience brief stoppages |
| F | Unacceptable congestion with stop-and-go conditions |
How does Forward Pinellas use LOS?
In its role as the Metropolitan Planning Organization (MPO) for Pinellas County, Forward Pinellas prepares a LOS Report each year. The report divides the major road network into categories based on its operating characteristics (i.e., arterials like McMullen Booth Road primarily serve through traffic & secondarily serve abutting property) and evaluates its ability to provide access and circulate traffic. Once finalized, the report is used by local governments for planning purposes and land development review processes.
In its role as the Pinellas Planning Council (PPC), Forward Pinellas evaluates the potential impact of proposed land use changes against a series of "Countywide Considerations" found on pages 6-21 through 6-22 of the Countywide Rules.  Based on the results of a balanced evaluation of those seven criteria, Forward Pinellas recommends either approval, approval with conditions, or denial of the local government request. Transportation impacts of a proposed land use change are based on the LOS grade of the adjacent roadway. If the LOS standard is not met, it's often difficult for staff to recommend approval of a needed change in land use.
How to effectively address transportation challenges in a redeveloping Pinellas County?
Historically, LOS has served as the primary transportation metric but it has significant drawbacks in urban areas. It is fundamentally a measure of traffic speed. The primary way to improve LOS is to add lanes to existing roads, or secondarily to optimize traffic signals to more efficiently move more cars through intersections, which increases delays for other users. However, Pinellas County is largely developed, and its roads have limited right-of-way that cannot be expanded without taking private property. Consequently, transportation concurrency, which restricts development in certain areas where road capacity is insufficient, was eliminated by the Florida Legislature and has largely been repealed by local governments. Additionally, LOS is only evaluated on major roadways during peak times.
To better address those challenges, Forward Pinellas has developed the Multimodal Accessibility Index or "MAX Index." Recognizing the importance of accounting for various forms of transportation, the MAX Index provides a more comprehensive representation of multimodal transportation access in specific areas. It's important to note that the MAX Index does not replace LOS but rather supplements it by considering non-automobile transportation options. Furthermore, the MAX Index can test different transportation investment scenarios to determine how various improvements affect the mobility and accessibility of an area.
How are MAX scores calculated?
The MAX scores are assigned to quarter-mile grid cells and are calculated based on various features present within those cells. Each feature carries a specific point value, such as:
Separated bike lanes (3 points);
Trail access (3 points);
Bus Rapid Transit stations (3 points);
Bus headways of 30 minutes or less (3 points);
Walkability score at or above the countywide average (2 points);
LOS of "D" or better (1.5 points);
Average volume-to-capacity ratio at or above the countywide average (1.5 points);
Sharrows, also called shared-lane markings (1 point);
Micro-mobility access (1 point);
Transit access (1 point); and
Transportation Improvement Program projects (1 point).
The point weighting associated with each of those criteria is based largely on feedback we received when developing the Advantage Pinellas 2045 Long Range Transportation Plan (LRTP). Pinellas County residents wanted to continue funding roads but expressed strong support for allocating larger amounts of funding to transit, walking, bicycling, and traffic signalization investments.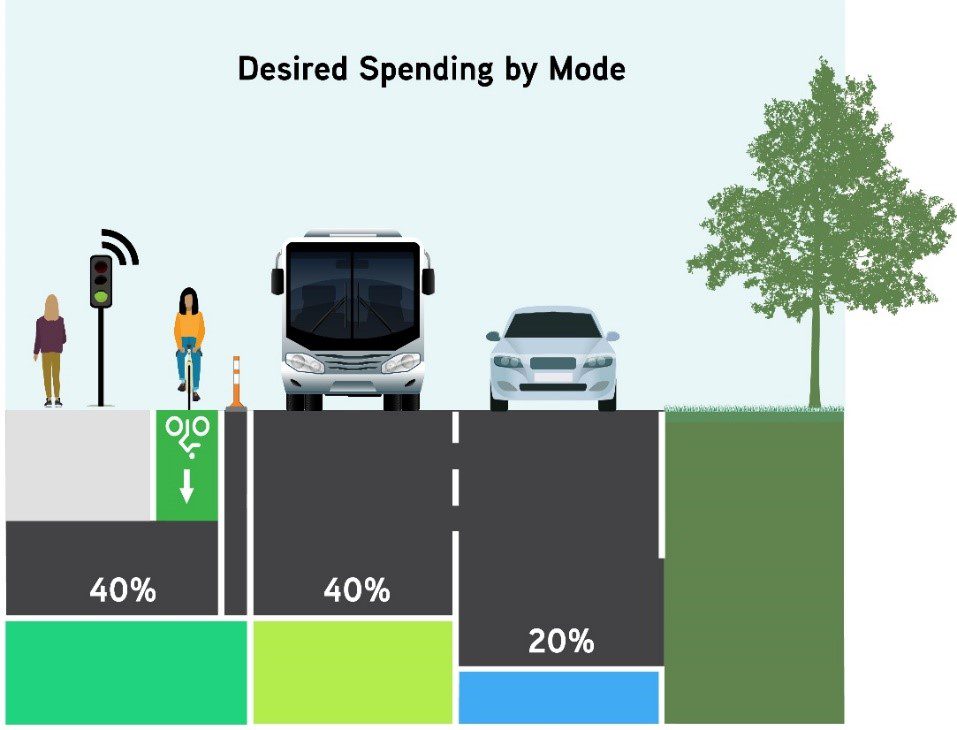 Those features accumulate points within a grid cell, potentially multiple times. For example, if a grid cell has two trail access locations and four transit access locations, it will receive a 10.0 MAX score (2 x 3 points for trail access + 4 x 1 point for transit access). Furthermore, the MAX Index considers proximity, awarding points to grid cells that are near features, even if the feature itself is located in a neighboring cell. This ensures that features within a reasonable travel shed are still accounted for.
Snapshot of the countywide MAX Index values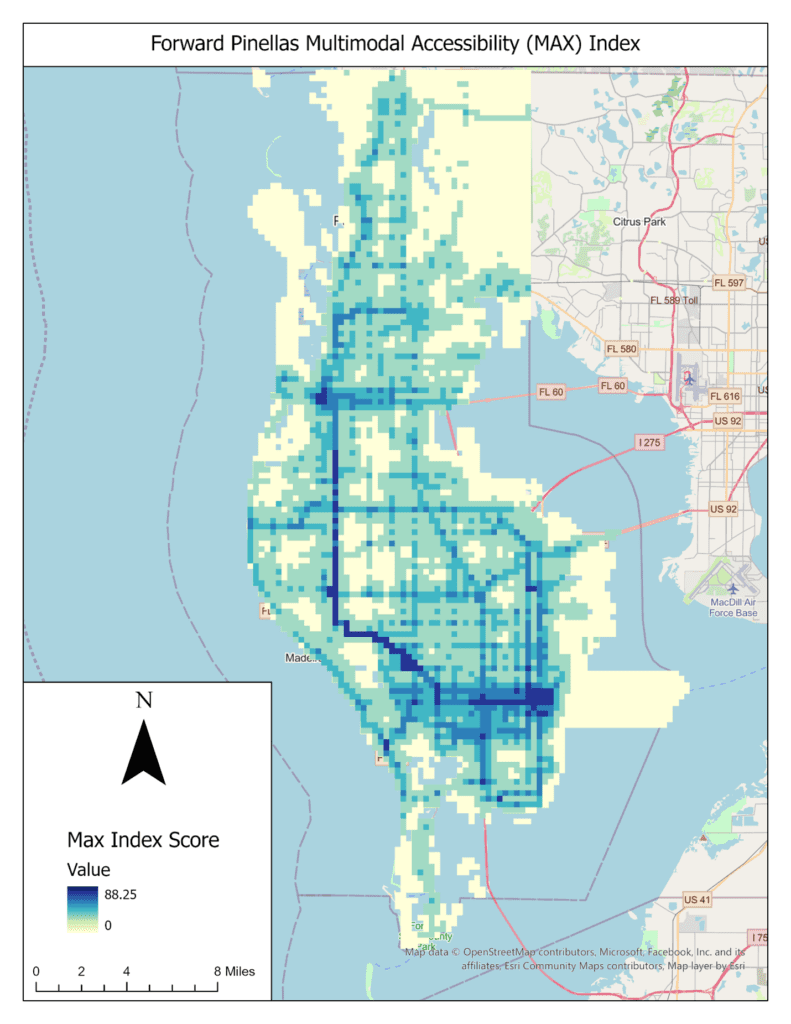 Where do we go from here?
On August 15, 2023, the Pinellas County Board of County Commissioners, acting in its role as the Countywide Planning Authority (CPA), adopted the MAX Index into the Countywide Plan. This action replaces the longstanding reliance on LOS as the only means to evaluate the transportation impacts of land use changes. The MAX Index is a step forward towards integrating a more flexible and accurate transportation assessment tool that better achieves countywide goals. We are confident that we now have a stronger means to use the land use regulatory process to improve multimodal transportation access throughout Pinellas County.