With the March 25th issuance of the "COVID-19 Safer at Home" order, planning departments across Pinellas County are ensuring their operations can continue in light of social distancing guidance from the Centers for Disease Control and Prevention and the President's Coronavirus Guidelines for America. Forward Pinellas has been in communication with our local governments regarding the steps they are taking or are considering in order to maintain key planning processes and procedures. Questions have been raised about holding accessible public meetings, the ability of elected officials to continue to vote on matters, and the ability for the public to comment on matters important to the community.
For processes such as land use amendments, rezonings, site plan and building permit applications, cities such as Largo, Pinellas Park and Tarpon Springs are continuing to accept online applications. Furthermore, municipalities are providing safe, isolated locations for dropping off paper applications at designated government buildings. Eighty percent of the municipalities surveyed are accepting both online and drop off applications, while the remaining 20 percent are accepting online only applications.
The processing of applications, including any pre-application meetings, are continuing remotely through emails and phone calls for most municipalities. Ninety percent of the municipalities surveyed have adapted their pre-application meetings to such remote working methods.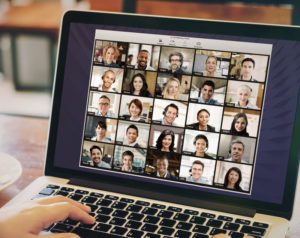 The March 20th governor's executive order provides updates to Sunshine Laws allowing public meetings to continue, and our local governments have been testing various technology platforms to host these meetings as a result. For example, Oldsmar and Redington Shores will hold public meetings using teleconferencing platforms such as Zoom and GoToMeeting, allowing officials to meet and vote remotely.
"Planning staff continues to provide Planner On Call consultations from their "home offices" using remote network connections and phone applications that forward calls to City Hall to their cell phones," said Rick Perez, planning manager with the City of Largo. "We have also implemented GoToMeetings to be able to hold pre-application and post application consultations with applicants," he said. "At this time the biggest challenge is figuring out how to hold required public hearings, due to Sunshine Law requirements, and other neighborhood meetings that are required by our Comprehensive Development Code. I am hopeful that there will be a legal solution to this soon, especially if the situation becomes prolonged."
Municipalities are actively researching features on these platforms that will allow public engagement and comment. For updated information on your local governments' processes, please visit their website.
For Forward Pinellas staff, we have implemented a remote work policy to help reduce the spread of the coronavirus while also helping to limit the impact on productivity. A few years ago, we began to equip our staff with more mobile technologies, which has allowed us to quickly adapt to this new reality. For example, we have been using Microsoft Teams to hold internal team meetings and will be using Zoom for our external meetings, including for our monthly Planners Advisory Committee meeting. There are other free and paid teleconferencing options available to planners, including Cisco Webex, Skype, Cyperlink U, BlueJeans and Google Hangouts. We are also evaluating web-based platforms such as Mentimeter and Slido as new ways to engage the community in conversations on important planning projects. We will also be consulting with our local government partners to ensure that any land use cases that have a fair amount of public interest or comments be deferred until such time where we can make reasonable accommodations for the public to participate in person.
As our community continues to face the unique challenges brought by the COVID-19 outbreak, we are working to adapt our methods of communication with the public, our local governments and partner agencies. If Forward Pinellas can provide assistance to you or your local government during this time, please contact us at 727-464-8250 or info@forwardpinellas.org.