by Christina Mendoza, AICP, and Dana Santos, MPH/MA
Forward Pinellas has launched a new project – Advantage Alt 19: Investing in People and Places along the Alternate US 19 Corridor, also called Advantage Alt 19, for short. This project is designed to provide people with better access from their homes to their jobs and job training opportunities, as well as to other desired destinations, using reliable transportation. Forward Pinellas wants to ensure the project reflects the community's needs and desires. So, we want to hear from you!
You may be asking, "why should I care?" or "why Alt 19 and not somewhere else?"
Setting the Stage for Investing in Alt US 19
As Pinellas County grows, it is important to consider how this growth affects our community. The costs of housing and transportation continue to increase, yet we keep growing! How do we keep the balance? At Forward Pinellas, we try to address that question every day. We have identified certain roadways that provide access to key areas with jobs and housing opportunities. The first targeted roadway is Alternate US 19, between Clearwater and St. Petersburg.
Advantage Alt 19 will:
Help plan for redevelopment in a way that addresses current and future community needs, and
Address transportation barriers to better connect people to housing, jobs, and other destinations of interest, like shopping, parks, beaches, and the Pinellas Trail.
How You Can Help Us Design Advantage Alt 19
We want to hear what you think! Your feedback will be reviewed by Forward Pinellas staff and changes will be made to the Advantage Alt 19 plan, as appropriate.
Workshop attendees are eligible to win a $50 Publix gift card for attending!

Survey participants are eligible to win a $50 Publix gift card for completing the survey!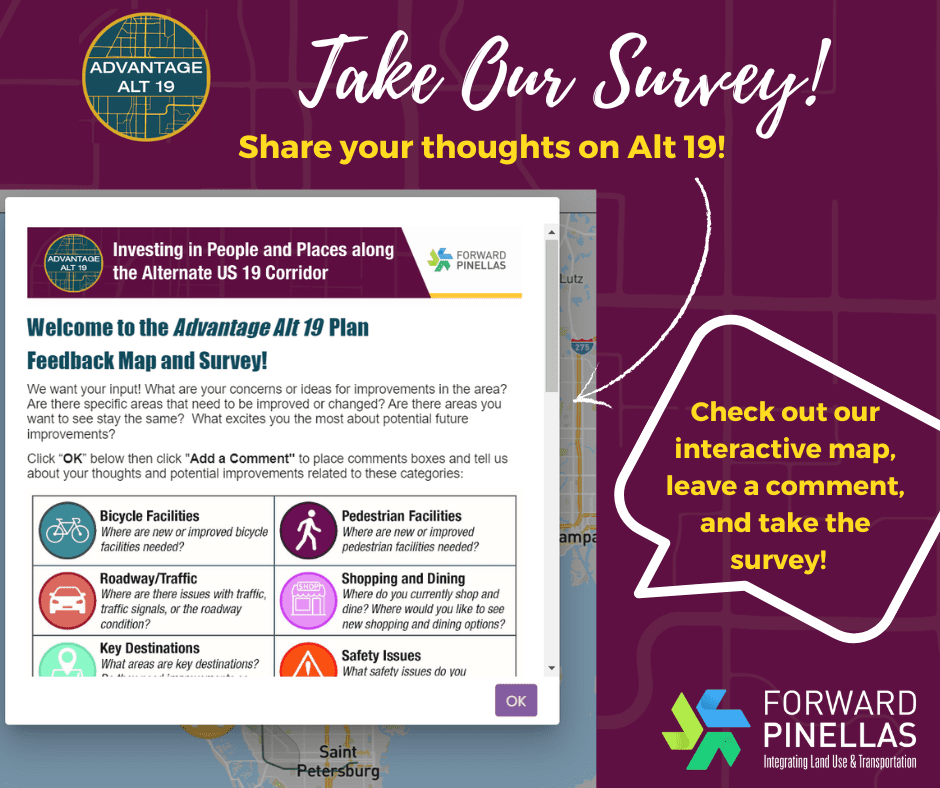 Cannot make any of these opportunities? More opportunities to get involved will be available in spring and summer 2023. The project is scheduled to be completed in the Fall 2023.
Questions or comments? Contact Christina Mendoza, at cmendoza@forwardpinellas.org.
This project is in partnership between Forward Pinellas, the Cities of Clearwater, Largo, Seminole, St. Petersburg, and unincorporated Pinellas County, the Pinellas Suncoast Transit Authority (PSTA), the Florida Department of Transportation (FDOT), as well as other partner agencies and stakeholders.