Attend any planning-related meeting and I guarantee someone will say the phrase "growth and redevelopment." Whether it's the gorgeous sunshine, incredible amenities, or the vibrant communities, we are constantly planning for an ever-growing population. Over the past decade, 2.7million people have moved to Florida and as the 7th largest county, Pinellas has also seen substantial growth. While this increase in population brings many benefits to our communities, it also creates many challenges. It's essential we adequately plan for the people who live, play and work in Pinellas County both now and in the future.
Understanding the Past and Projecting the Future
Forward Pinellas performed a series of modeling efforts using advanced transportation modeling software and geographic information systems (GIS) to determine how and where that growth is going to occur over the next 20 years. These data sets are developed in conjunction with our planning consultants and the Florida Department of Transportation (FDOT) before being vetted by our various local governments.
In addition to these modeling efforts, we used the latest 2020 census data to look at where population growth occurred in Pinellas County over the past decade, as well as where it is headed by 2045. We decided to analyze the growth by zip code since it is a far more identifiable geography than a county census block, census tract, or traffic analysis zone.
Where has the population grown in Pinellas from 2010-2020?
Pinellas County saw a 5% increase in population which translates to roughly 42,610 new residents.
Current growth has been evenly distributed throughout the county, with the cities of St. Petersburg, Pinellas Park, Largo, Clearwater, Dunedin, Tarpon Springs, and parts of unincorporated Pinellas County exhibiting the highest rates of growth.
The zip codes that grew the most by population count were 33701 (St. Petersburg – Downtown), 33764 (Clearwater – SR 60 @ US 19 area), and 33716 (St. Petersburg – Gateway area) respectively.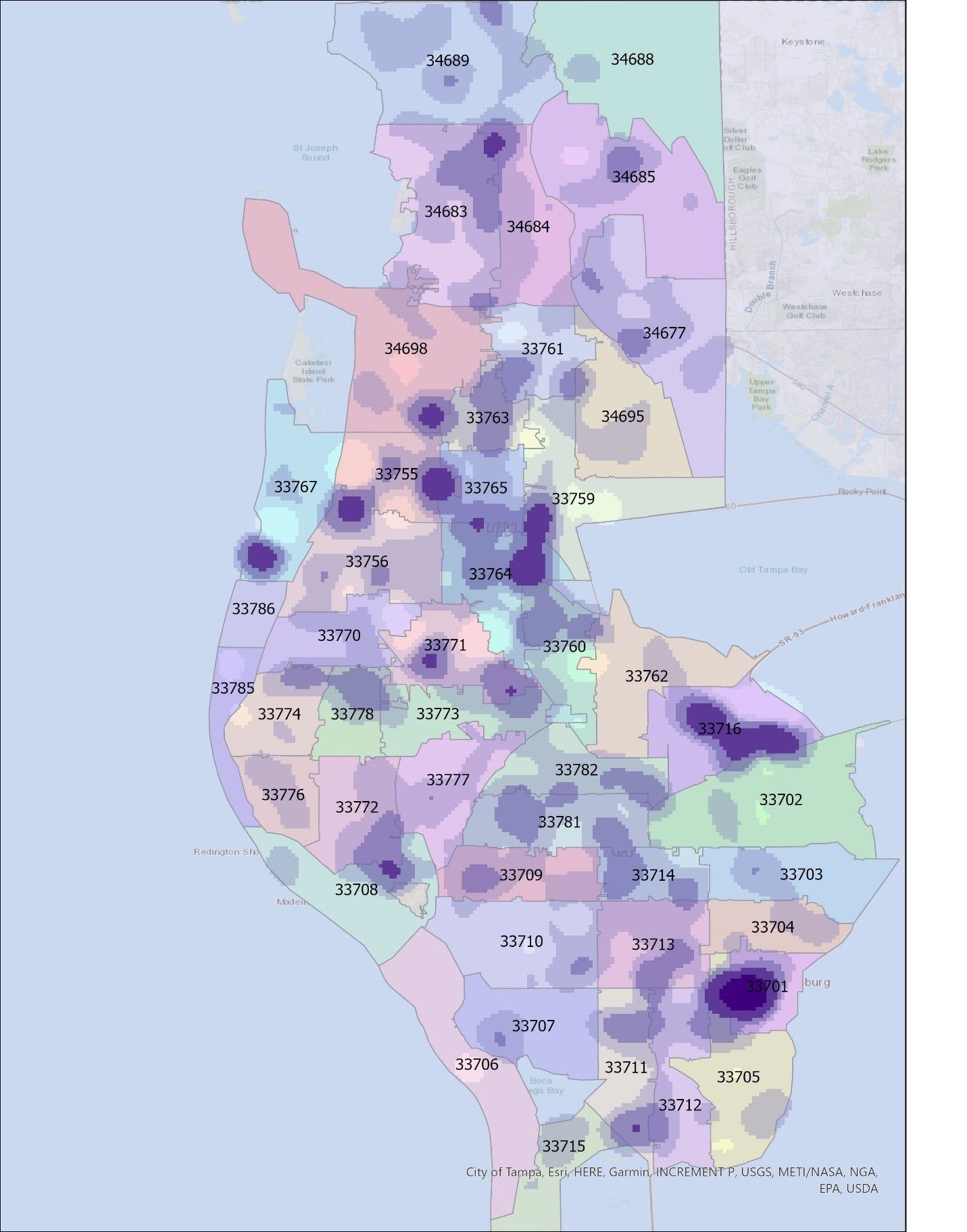 Where are we headed?
Though future growth is projected to be slightly different, it will still be evenly distributed throughout the county. By utilizing existing census data, as well as projected growth data developed for our Advantage Pinellas Long Range Transportation Plan (LRTP), we found that the number of people in zip codes 33781 (Pinellas Park), 33764 (Clearwater – SR 60 @ US 19 area), and 33713 (St. Petersburg – North Kenwood area) are projected to increase the most by 2045.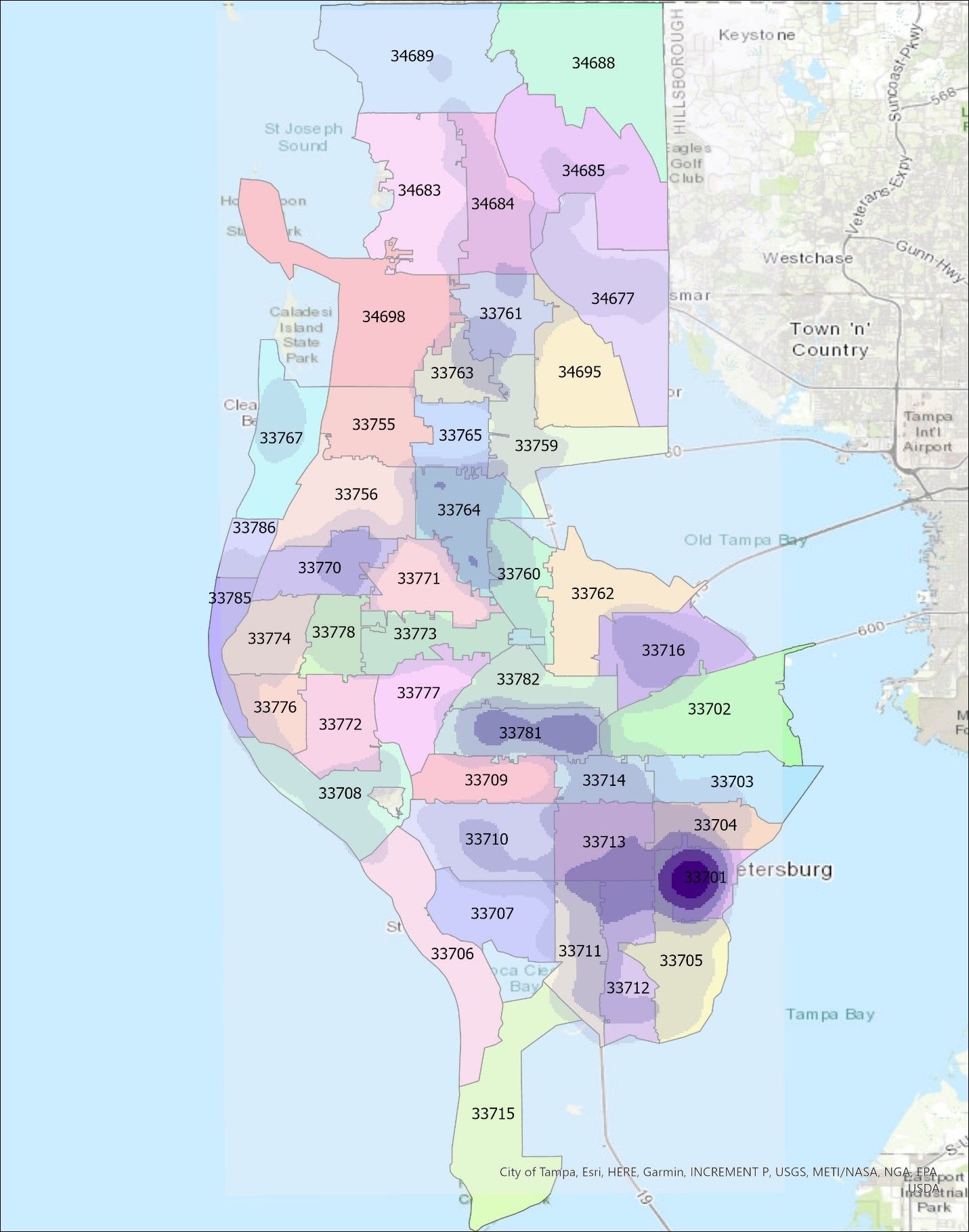 Planning for Future Generations
It's inevitable. "Growth and redevelopment" will continue to be buzzwords at most planning meetings. As Forward Pinellas begins to ramp up our 2050 Long Range Transportation Planning efforts this summer, we will continue monitoring areas of rapid population growth carefully to ensure that current and future generations can access adequate and affordable homes, high-paying jobs, educational opportunities, and safe and equitable transportation options. Understanding how Pinellas County has grown in the past and which areas of the county will grow in the future will significantly impact all our planning initiatives at Forward Pinellas and ensure we create a safer, more accessible, and sustainable future for everyone in Pinellas County.