Florida is in the middle of its legislative session for 2021, which ends on April 30. During this time each year, state lawmakers debate whether to pass bills that could have far-reaching consequences for local communities—intended or otherwise. Forward Pinellas tracks bills that may affect how our member local governments plan for land use and transportation.
This year, we're especially concerned about proposed legislation that is intended to help keep pedestrians safe, but would inadvertently put them at greater risk. A pair of similar bills, House Bill (HB) 1113 and Senate Bill (SB) 1412, would ultimately reduce the number of mid-block crosswalks and  sharply limit the use of traffic safety devices known as Rectangular Rapid Flashing Beacons, or RRFBs.
The stated intent of the bills is to eventually replace these crosswalks and safety devices with other, more expensive alternatives.  However, these traffic signal options won't be feasible in most mid-block locations and will simply result in the removal of any crossing signals. Local governments will eliminate many crosswalks entirely rather than leave them unprotected.  Fewer crosswalks will result in higher speed roads, a less walkable community, and more crashes and fatalities.
"The benefit of an RRFB is that it signals to motorists the presence of a pedestrian and the requirement to yield to them at a crosswalk," states Angela Ryan, Principal Planner of Active Transportation at Forward Pinellas, but adds, "Once the RRFB is activated, it is imperative that a pedestrian ensures traffic has stopped prior to attempting to cross the road."
Florida law requires drivers to yield to pedestrians in crosswalks regardless of whether there's a traffic signal in operation. At unsignalized crosswalks, however, driver compliance is typically low to nonexistent. In 2006, the Federal Highway Administration (FHWA) began allowing the City of St. Petersburg to test RRFBs at mid-block pedestrian crossings, where standard traffic signals aren't able to be installed. The devices allow pedestrians to activate rapidly flashing yellow LED signals before crossing.
A 2010 FHWA study of St. Petersburg and two other pilot cities found that at intersections where RRFBs were deployed, driver compliance rose dramatically, from as low as zero percent before installation to between 72 and 96 percent afterward. Other local, state and federal studies have consistently shown driver compliance rates between 80 and 100 percent, and RRFBs also significantly outperform standard round yellow flashing beacons.
As a result of these successes, there are now nearly 1,800 RRFBs in use throughout Florida, including 350 in Pinellas County. FHWA research has shown a 47 percent decrease in pedestrian crashes at crossings where the devices have been installed.
Though significantly reduced in number, pedestrian deaths in RRFB crosswalks do unfortunately still occur. In a tragic incident in Brevard County in December 2019, a 12-year-old girl named Sophia Nelson was struck and killed by an 82-year-old driver who failed to yield.
Every pedestrian death is a tragedy. Ensuring the safety of vulnerable road users is a major priority for Forward Pinellas, which has adopted the Safe Streets Pinellas Action Plan and committed to a goal of zero deaths and serious injuries in Pinellas County by 2045.
Sarah Caper, also a Principal Planner for Forward Pinellas, administers the Safe Streets Pinellas Program. "It's not okay for anyone to be killed or seriously injured on our roadways," she states. "Safe Streets Pinellas is a data-driven approach that focuses on preventing traffic deaths through implementing safe systems. This means ensuring that everyone is able to move around our community safely, regardless of who they are and how they are traveling, and using every tool available to us, including RRFBs."
Sadly, at the state level, compassion for the victim has led to a misguided campaign against RRFBs. Representative Randy Fine, who represents the Brevard County district where the crash occurred, is the author of HB 1113, which would prohibit the devices on roadways with speed limits greater than 29 miles per hour and require remaining RRFBs to either be retrofitted with red lights or be removed. Senator Keith Perry, representing Alachua, Putnam and Marion counties, sponsored the companion SB 1412.
Forward Pinellas opposes the bills, which could cost thousands of lives and undo nearly two decades of progress toward improving pedestrian safety. While the bill sponsors have been promoting the provision that would require turning the yellow flashing lights to red, in fact the proposed law would be much more damaging, forcing the removal of the devices on most roadways.
Should either of the bills become law in its current form, St. Petersburg alone would need to remove nearly 90 crosswalk signals, with no plan in place to ever put them back.  On the State Highway System, the Florida Department of Transportation estimates it will cost more than $14.9 million to inventory and conduct engineering studies of crosswalks, and to purchase and install new signal and pedestrian control equipment—funds that should be spent on improving pedestrian safety facilities, not dismantling them.
At a Florida House of Representatives committee hearing on March 16,  Pinellas County Representative Linda Chaney cited the experience of Gulf Boulevard, which up until the late 2000s was one of the deadliest roads in the county. "We installed the yellow crosswalks, and we saw an immediate reduction in pedestrian deaths," she told Fine. "I would suggest that your experience with your crosswalk is not the only experience in the state of Florida."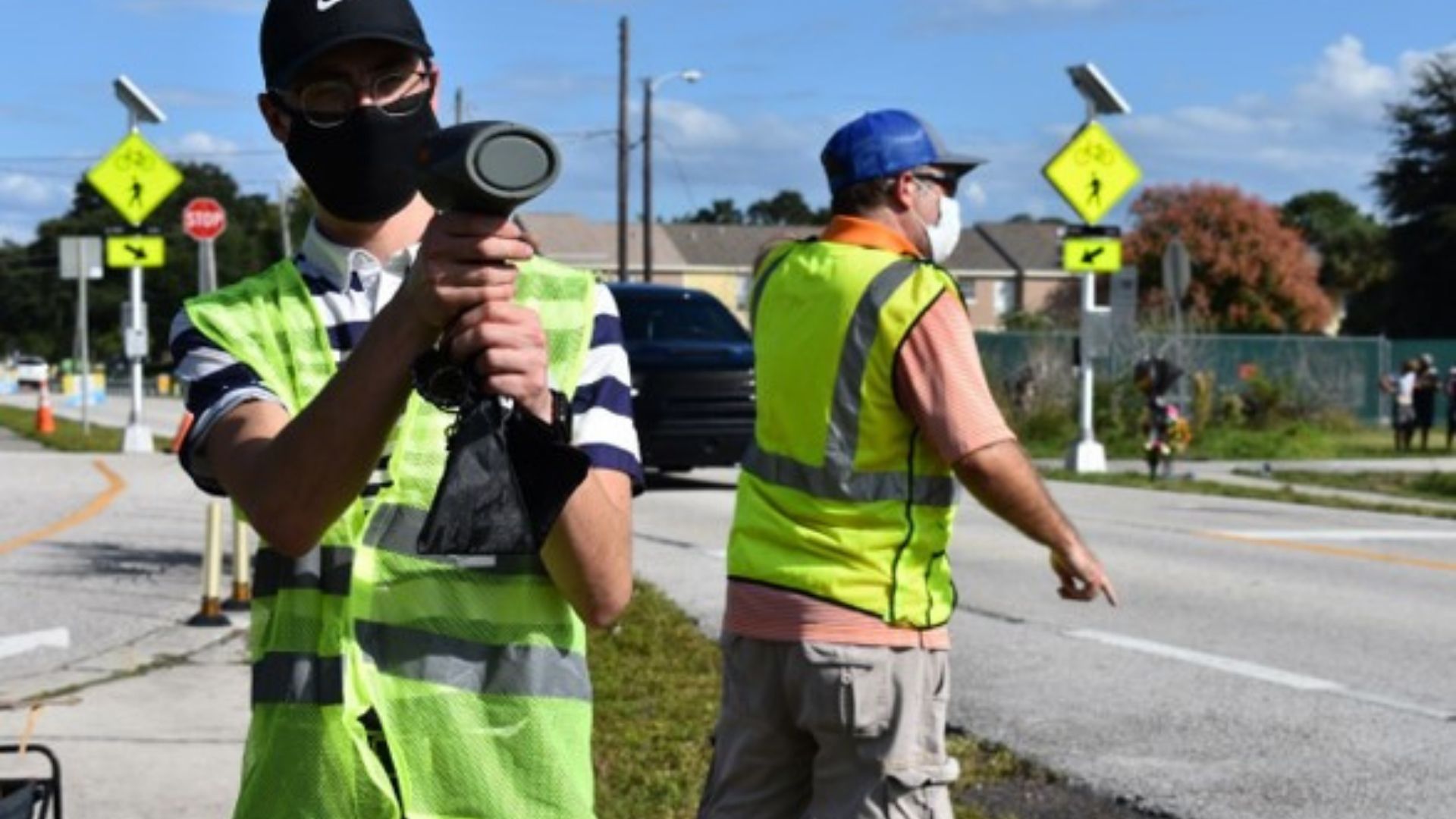 Ryan adds, "My 10-year daughter and I use an RRFB each day we bike to her school, and it's the only safe way to cross Alternate U.S. 19 in Palm Harbor. Without this device, we would be forced to travel to the closest intersection a mile away. It would not be feasible to bike to school without an RRFB."
These devices provide an important, useful tool for local governments to make their communities safer. In addition to undermining the wishes of those communities, the proposed legislation would override decisions made by engineers, licensed professionals who have a professional and ethical responsibility for public safety. It would instead put that authority into the hands of legislators, who do not have that same responsibility.
The proposed bills to remove crosswalk signals is an ill-conceived reaction and would harm the very cause—and people—it intends to support.  For these reasons, Forward Pinellas strongly encourages citizens to oppose HB 1113 and SB 1412.