During the last two sessions, the Florida Legislature has introduced and advanced bills that purport to be about pedestrian safety by modifying or restricting use of certain safe crossing devices at mid-block crosswalks. These bills actually run counter to improving pedestrian safety, using a tragic fatality to keep Florida's roadways "dangerous by design" and inaccessible for everyone needing to use a public roadway. Introduced as House Bill (HB) 1113 and Senate Bill (SB) 1412 in the 2021 Session, the bills would have required certain lighting and location changes to mid-block crosswalks, or state and local governments would be forced to remove the protective flashing beacon devices, thus leaving mid-block crossings unprotected and less safe for users. Some crosswalks would be removed.
What are RRFBs?
Known as Rectangular Rapid Flashing Beacons (RRFBs), the yellow flashing pedestrian crossing devices increase the visibility of people crossing a roadway to make vehicle drivers aware of their legal right and presence to cross the street at an approved crossing location. The RRFBs are a recommended practice in the Federal Highway Administration's (FHWA) Every Day Counts Safety Program and acknowledged as an effective safety device in the Manual on Uniform Traffic Control Devices (MUTCD).  Federal approval to change the lights from yellow to red is extremely unlikely, despite formal requests for pilot treatments. They are recognized by FHWA, the Florida Department of Transportation, the state's MPOs and many local governments as a cost-effective tool in the transportation safety toolbox to help combat Florida's nationally recognized status as the least safe state for people walking or bicycling.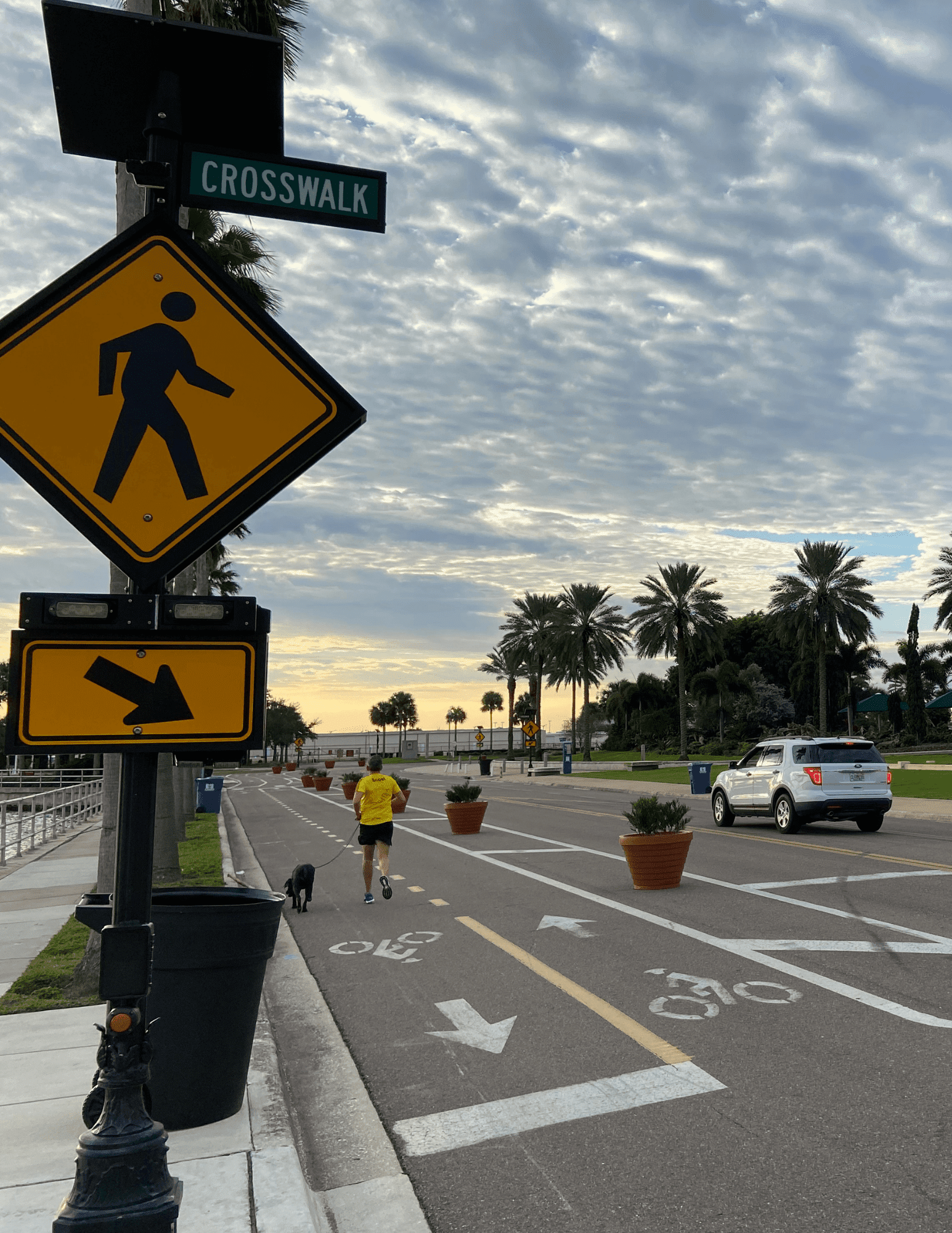 What have we seen in Tampa Bay?
Since their start in 2004, RRFBs have proven to increase motorist response to people using crosswalks from 18% to 88%. Their success starting in Pinellas County has led to more than 300 devices located throughout the County on state and local roadways, 170 in Hillsborough County, and hundreds more in counties large and small across Florida and the U.S.
The unfunded mandate of removing these devices will be an enormous fiscal burden on state and local governments. The human cost will be much greater. Bicycle and pedestrian fatalities on our roadways are rising rapidly, and while no traffic control device is 100% capable of preventing serious injuries and fatalities, RRFBs have a proven safety record of reducing fatalities and crashes by 47 percent. They save lives every day, but that doesn't make the press.
On Fletcher Avenue, which serves the University of South Florida area, RRFBs at mid-block crossings have helped to create a dramatic transformation. Prior to installation, Fletcher Ave. was the highest fatality corridor in Hillsborough County. In 2014, RRFBs and other safety measures were installed. The post-construction study competed in 2019 demonstrated a 46% reduction in serious injuries and 60% reduction in fatalities.
The FDOT and many local governments in Florida have adopted Vision Zero goals of no traffic deaths on our roadways. The use of RRFBs as approved is one part of the solution involving engineering, education, and enforcement to meet those goals and defined safety targets.
Restricting these RRFBs and removing mid-block crossings is an equity concern because data show that underserved and minority communities bear an outsized burden of fatal and serious crashes involving vulnerable road users (people on foot, bicycle or motorcycle). In these neighborhoods, residential areas are often separated from commercial areas by higher speed multi-lane roads.
Where can we place RRFBs?
The prior legislation has brought greater awareness to the issue of mid-block crossings, RRFBs and pedestrian safety in general. We agree that there should be some restrictions on the location of mid-block crossings with RRFBs based on sound professional engineering. FDOT's Traffic Engineering Manual calls for RRFBs to be limited to roadways with marked, special emphasis crosswalks, four or fewer through lanes (with a refuge island required on five lane facilities with two-way left turn lanes), and a posted speed limit of 35 MPH or less. It is not a simple measure for state or local governments to change the posted speed limit on a roadway without supporting data and analysis that follows specified criteria.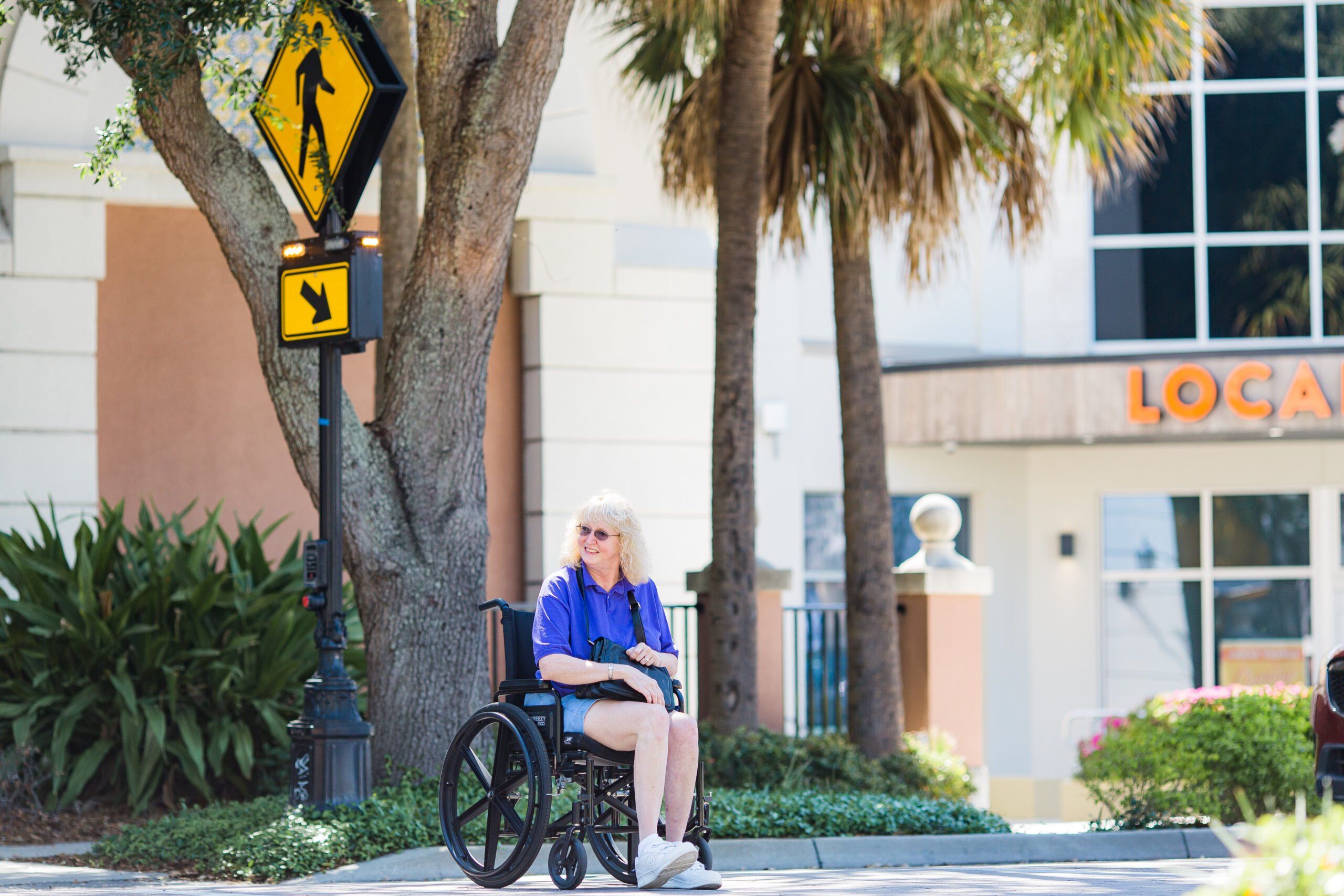 What should be done to improve safety?
Rather than legislating against a specific safety device that has been proven effective, the Legislature should turn its focus instead to other legal remedies to protect vulnerable road users, fund educational efforts adequately and provide more flexible transportation funding options to regions and communities. Those measures would go a much longer way toward improving safety on our roadways.